Our Story
Rufus and Roxie Pritchard have owned and operated The Dunes Restaurant since 1983. Rufus and Roxie met in Nags Head during the summer of 1971. A native of Manteo, Roxie, had returned home from college to work as a hostess at the Seafare Restaurant. Rufus, originally from Elizabeth City, was spending his summer at the beach managing the Ebb Tide Motel. After Rufus laid eyes on Roxie, he had to meet her, and so a one-sided blind date was arranged. They married in the summer of 1973, and soon after Rufus began working for East Carolina Bank.

Ten years later the opportunity to purchase the Dunes presented itself to him. It didn't take long for the restaurant to become a family-run establishment and a Nags Head dining tradition. Rufus began working the early mornings as the head breakfast cook, and Roxie was the face of the front door.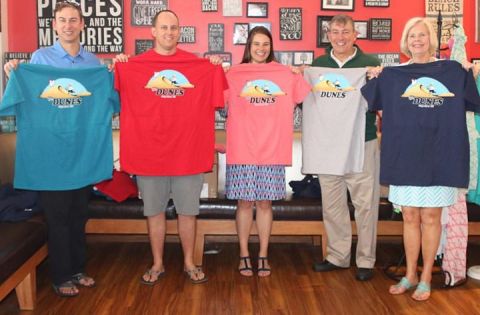 Today, Roxie has also become well known for discovering fun and fanciful 'bling' in the gift shop.

Their three children, Davis, Patrick and Sarah, all started helping in the restaurant at an early age. They loved to crack eggs and prepare toast. They had to stand on milk crates to reach the counters. While they've each gone on to fulfill their own dreams, they all still have an eye for making The Dunes successful. The Dunes has never been afraid to lead the pack. It was the first restaurant on the Outer Banks to add retail and to become a non-smoking restaurant. Now, after a total rejuvenation, the Next Generation of the Dunes offers a place where Southern hospitality meets contemporary dining. In addition to new items on the menu for both breakfast and dinner, the restaurant features a Full Service Bar where you can get a thirst-quenching drink (ask for their nightly specialty drink), a craft beer or a glass of wine to pair with dinner. One thing is certain, you'll always find a friendly staff who believes in treating every visitor like family.