A Place For Outer Banks Drinks & Cocktails
R-Bar opened its doors to the Outer Banks' public in May of 2009 and is located in the family-owned Outer Banks restaurant, The Dunes.
The Nags Head bar is a state-of-the-art full bar stocked with several beers (many special selections from NC breweries) on tap, a carefully selected wine list featuring many selections by the glass, and signature martinis and cocktails created by R-Bar's friendly bartenders. The R-Bar features a bar menu with specialty appetizers as well as the Full Dunes' Menu.
The name R-Bar was inspired by different people and things, in which the name brings all of them. "R" in R-Bar derived from a conversation between owner, Roxie, and the restaurant's designers. Because of Roxie's local Southern drawl, they kept thinking she was saying "R" Bar instead of "our" bar. The joke stuck and they realized "R" had many more meanings.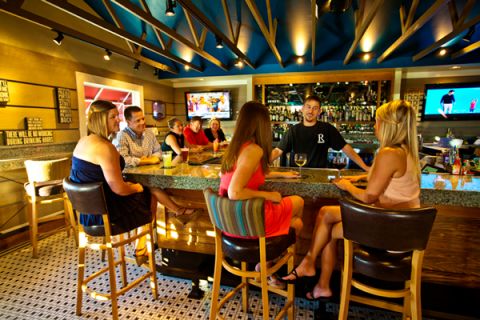 The "R" was extracted from the names of Rufus and Roxie Pritchard, owners of The Dunes; Russell Hawk, a dear friend and valued employee who passed away in 2007; and also from the "Restaurant" sign that was a landmark located on the roof of The Dunes since its beginning. It was a big deal for Rufus to get rid of that sign, and so the big "R" hangs in the center of the R-Bar.
R-Bar welcomes locals and visitors alike. There are two big screen TVs for your viewing pleasure. The mission of R-Bar is to make you feel comfortable and at home every time you walk through its doors and pull up a spot at the bar, because this is just as much your bar as it is our bar.